Ever since she was a little girl, 21y.o. cellist's main life focus has always been attaining a position with the New York Philharmonic orchestra.
Her impending graduation from music school depends on her final recital. Her world comes crashing down when she loses her recital partner. Her last resort is to ask almost-failing 22y.o. senior Hero to be her substitute partner.
And she was surprised he accepted.
She doesn't know how her cello & his electric guitar combination will sound in harmony.
Just as she doesn't know how her infatuation with someone as hot and earthy as him could be reciprocated. But she'll make it work or else lose what she's sacrificed so much for. Distractions in the form of Hero's ex-girlfriend, her exacting father, and her increasing fantasies about him are keeping her from focusing on their music.
When Hero lets her know that he returns her attraction, her priorities change.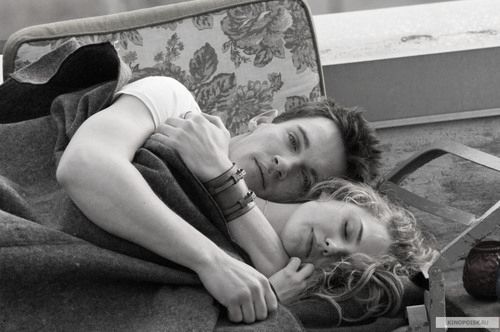 How much will their romance interfere with their music?
The greatest strength of this book was how music was conveyed. The writing made the music Hero and heroine were making almost palpable. As if I could really hear it and feel. The description of their recital duet was just beautiful. The messages Hero and heroine were sending about each other and their relationship through their music were personal. The fact that their music composition told the story of their romance was a unique quality of this book. Hero and heroine lived and breathed music. It was a language they often used & not many understood. As different as they appeared to be (with tattooed devil-may-care Hero versus organized & geeky heroine), they shared a love for and understanding of music. And desperate straits about being able to graduate. Once they got to know each other, they became each other's support.
Heroine's insecurities regarding Hero reciprocating her interest were funny at times. She had a self-deprecating view of herself as klutzy & unsexy.
Her accumulating sexual fantasies of Hero were a mix of laughable, cute, and steamy. She had a wonderful group of girlfriends who educated her on sexual matters via their own sexual escapades with their boyfriends.
We don't know as much about Hero since this book was told from heroine's POV(point of view). The only 'friend' he had was his ex-girlfriend who had her sly motives. We don't get to know much of their history. All we know is that they both have tattoos of each other's name on their arms & that his ex left him 6 months ago.
I would like to have gotten
Hero' s POV.
He was more intense &
seemed to have an interesting past. I wanted to know what those smoldering looks and meanigful pauses he gave to heroine meant. His POV would've heightened the book's overall emotional intensity. Hero and heroine's
romance wasn't as intense as the main characters in Dance For Me
(see review here). There really wasn't much angst in this book. There was a slight big misunderstanding regarding Hero's school motivation that got resolved pretty quickly.
------------------SPOILERS: Don't read below if you don't want to know the book's details------------
Hero was having problems with the writing assignments at school. So he wouldn't do them or show up in class. Thus, his low school marks and the impending threat of getting kicked out of music school. Heroine realized that his problem was due to his undiagnosed dyslexia, after she saw accidentally read his writing. When she told Hero about it and planned a strategy to help him with his class essays, the problem was solved. My question is how was senior-student Hero able to successfully finish each consecutive school year with him skipping the essay assignments? Granted it was music school and the rules may be different there than traditional college.
-----------------------------------------------END SPOILERS------------------------------------------------------------
There was more drama in her friends' lives, two of which were the main characters of Dance For Me. Interestingly, the reappearance of Hero's ex-girlfriend caused only a bit of disturbance between Hero and heroine. His ex did some subtle sabotaging, which caused more problems for Hero's academic performance than his relationship with heroine. Heroine didn't seem very jealous of his ex sleeping at his tiny apartment for a few weeks. She trusted Hero well enough. They were
comfortable with each other and came to depend on each other. They spent most of the time together honing their recital performance and had an intuitive musical partnership.
And that's basically the nature of their romance: t
rusting, comfortable, and passionate in the midst of their marathon music practices.